Durisdeer Hills and Dalveen Pass
Map of a circular hill walk from Durisdeer village up Black Hill to Pettylung and Capel Hill then to Caplaw Rig and back by Well Hill and Durisdeer Hill
Click on the left side of the image below to go back to the previous page
or, on the right side of it to go to the next page.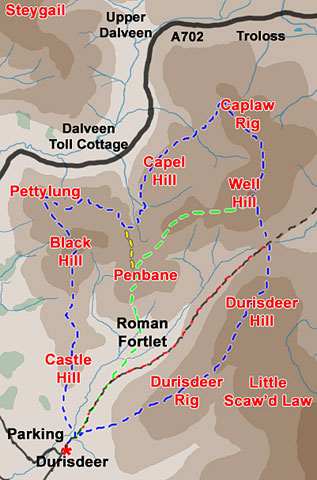 01 For the walks shown in the map above you park at Durisdeer village (OS Ref NS894037). You can see that there are several possible routes you could take but the one shown in this web gallery is the blue route (which was done in a clockwise direction). On the section between Pettylung and Caplaw Rig on that route I was not following the tops of the hills but sticking to the edge where I could see down into the Dalveen Pass - the valley taken by the A702 road. This makes for a much more interesting walk than sticking to the top.
You could cut the route short after Pettylung by taking the yellow route back over Penbane. The Green route back from Well Hill is no short cut and involves more ascending than the blue route over Durisdeer Hill. If however, you don't fancy ascending either Penbane or Durisdeer Hill there is an escape route down the red route on a vehicle track the highest part of which was once the line of a Roman road. This vehicle track carries on right through to Troloss at the head of the Dalveen Pass and was in ancient times one of the main highways into the south west of Scotland (see page 24).